Per what we gathered, this contestant identified as Joan mentally ill and a drug addict who was deported by her parents from the United States to Ghana.

In a report by thegossipcoop.com, Joan was in a rehabilitation center in the United States for months as a result of her drug addiction before her parents took a firm decision and brought her to Ghana.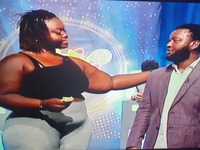 The source claims Joan is still mentally not well and as a result of that, she was once suspended as a registration officer at the National Identification Authority (NIA).
source: https://www.ghgossip.com/gossip-date-rush-contestant-joan-is-mentally-ill-as-well-as-allegedly-a-drug-addict-who-was-deported-from-the-us-by-parents/